---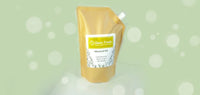 Sale
What makes our our mustard oil so special
Pure: 100% pure mustard oil. 0% trans fats, additives, preservatives, or artificial ingredients—we just won't allow it!
Cold-pressed, extra virgin: We buy the best seeds from farmers and press them in a traditional wooden press (kacchi ghani), keeping nutrients, antioxidants, and flavour intact. We don't use any heat, steam, or chemicals, such as hexane. Our method gives a lower yield but gives you the highest quality oil.
Unprocessed, unrefined: Our mustard oil does not undergo any of the processing that commercial refined mustard oil goes through, such as deodorisation or bleaching. We retain all the natural goodness of the oil.
Traditional heirloom seeds (देसी बीज): Our mustard oil is made from indigenous Indian varieties of mustard and is non-GMO.
Quality you can smell and taste: Our mustard oil is a deep golden oil with the distinct, pungent aroma and rich taste of pure mustard.
Health benefits: Unrefined mustard oil has an ideal ratio of omega-6 to omega-3 fatty acids; it is also low in saturated fatty acids and rich in monounsaturated fatty acids (MUFA), making it extremely heart-friendly.
How to store: Refrigerate the bottle after opening it; keep the cap shut tight. Unrefined oils are fragile compounds and are best consumed within three to four months of the date of packaging. The oil may appear cloudy when stored in your fridge—this is absolutely normal.
Other uses: Mustard oil is excellent for skin and hair and can be used as a massage oil. Traditionally, it has also been used with salt to massage the gums for oral health.
How should you use our mustard oil?
Mustard oil has a smoking point of around 350 Fahrenheit (177 Celsius) which makes it ideal for Indian cooking. You can fry, stir-fry, season or temper any dish with it. From any seasonal vegetable to meat, fish and poultry, our cold-pressed, extra-virgin, unrefined mustard oil is excellent for cooking all of these. It is prized for its wasabi-like punch and distinct aroma.
Which vegetables taste great with mustard oil?
Ask any fastidious Bengali foodie and he (or she!) will tell you that nothing quite enhances the taste of food the way mustard oil does. In Bengal, Orissa, Bihar, the North-East, UP, Punjab, Rajasthan and Kashmir, mustard oil is the preferred cooking medium.
Karela (bitter gourd), any green leafy vegetable such as methi (fenugreek), palak (spinach) or chaulai (amaranth) tastes great in mustard oil. The winter speciality Sarson ka saag, tastes especially in our mustard oil! Brinjal and mustard oil are a combo made in heaven. Potatoes taste amazing when cooked in mustard oil.
From jhinga (ridged gourd) to torai to a simple gajar-matar (carrots and peas), almost any vegetable goes well with mustard oil. Aloo dum tastes fantastic when cooked in mustard oil.
Across North India, naanis and daadis have used mustard oil for their mango pickles, their lemon pickles and especially in their winter vegetable pickles such the famous Shalgam gobhi gajar (turnip-cauliflower-carrot) pickle! From ginger pickle, garlic pickle and chili pickle to regional speciality pickles such as 'dela', 'karaonda', 'mahua', king chili, and 'ker sangri' pickle, it's mustard oil that's preferred.
Mustard oil adds flavour to frying!
Pakoras, bhajiyas and cutlets taste great when fried in mustard oil as do aaloo chops, vegetable chops, chicken, fish and keema chops! Bengali cuisine specialities such as 'Teley bhaja' (batterfried vegetables), depend upon mustard oil. Bengali and Oriya cuisine prominently uses frying and sauteing ingredients in mustard oil as a cooking technique for their delicious curries!
Mustard oil and non-vegetarian cooking
Mustard oil's robust flavour also complements mutton, seafood, chicken and eggs. Fish in mustard sauce is a well-known Bengali delicacy and most Easterners would not want to cook their non-vegetarian fare in any other medium but mustard oil. North Indian 'Bhunna mutton' is a delicacy that tastes its best in mustard oil. Kashmiri rogan josh depends upon mustard for its rich and unforgettable flavour. Be it prawn curry  or egg curry, the flavours are enhanced when you use mustard oil.
Popular spices that can be used with mustard oil
Panch phoran, also called the Five Spice blend and mustard oil are made for each other: Saunf (Fennel), Kalonji (Nigella)), Jeera (Cumin), Methi (Fenugreek) and Radhuni (Wild celery).  Of course, mustard seeds go well with this oil and used with whole dried red chili make for a great flavour. Jeera and the garam masala spices: Badi Elaichi (Black Cardamom), Tej Patta (Bay leaf), Dalchini (Acacia bark), Laung (Clove) along with fresh ginger and green chili.  
Eat Gaon Fresh mustard oil raw and enjoy the flavour!
Remember Gaon Fresh mustard oil also tastes excellent when eaten raw because of its high quality . It's excellent in 'Kaccha Bharta', 'Chokha' of any sort and 'Jhaal muri'. To name just a few!
Mustard oil (sarson, सरसों) - cold pressed, unrefined, extra virgin 1Liter (Refill Pouch)