---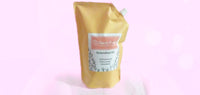 Sale
What makes our groundnut oil so special
Pure: 100% pure groundnut oil. 0% trans fats, additives, preservatives, or artificial ingredients—we just won't allow it!
Cold-pressed, extra virgin: We select the best unshelled groundnuts and press them in a traditional wooden press (kacchi ghani), keeping nutrients, antioxidants, and flavour intact. We don't use any heat, steam, or chemicals, such as hexane. Our method gives a lower yield but gives you the highest quality oil.
Unprocessed, unrefined: Our groundnut oil does not undergo any of the processing that commercial refined groundnut oil goes through, such as deodorisation or bleaching. We retain all the natural goodness of the oil.
Traditional heirloom seeds (देसी बीज): Our groundnut oil is made from indigenous Indian varieties of groundnuts and is non-GMO.
Quality you can smell and taste: Our groundnut oil is a light golden oil made from raw, unshelled groundnuts— this makes it specially flavourful and aromatic. It has an appetising smell and rich taste.
Health benefits: Unrefined groundnut oil is a good source of Vitamin E, phytosterols such as β-sitosterol*, and polyphenols such as resveratrol. These compounds are heart-friendly and play a protective role against certain kinds of cancers.
How to store: Refrigerate the bottle after opening it; keep the cap shut tight. Unrefined oils are fragile compounds and are best consumed within three to four months of the date of packaging. The oil may appear cloudy when stored in your fridge—this is absolutely normal.
Other uses: Groundnut oil is good for the skin and can be used as a massage oil.

*Nutrition and Cancer, November 2009, (B Awad et al)
How should you use our groundnut oil?
Groundnut oil has a smoking point of around 320 Fahrenheit (160 Celsius) which makes it ideal for Indian cooking. You can fry, stir-fry, season or temper any dish with it. From any seasonal vegetable to meat, fish and poultry, our cold-pressed, extra-virgin, unrefined groundnut oil is excellent for cooking all of these. It is prized for its rich, nutty flavour and aroma.
Which vegetables taste great with groundnut oil?
Ask any Maharashtrian or Gujarati culinary expert and he will tell you that food tastes best when cooked in groundnut oil. In both these states and to a lesser degree in the southern states (especially Andhra), groundnut oil is extensively used and is the preferred cooking medium.
From cauliflower, okra (bhindi), beans, carrots, potato and the humbler lauki (bottle gourd), pumpkin, kundru, and torai, groundnut oil works very well with all vegetables. In Maharashtra, regional leafy greens such as ambadi (roselle), ambat chuka (green sorrel), lal maath as well as the more common spinach, methi (fenugreek), chaulai (amaranth) and radish leaves (mooli ka saag) taste fabulous when cooked in groundnut oil. The popular 'Bharleli Vangey' or brinjals stuffed with masala are spectacular when cooked in groundnut oil.
Poha, upma, stuffed parathas and dosais are fantastic when cooked in groundnut oil.
Rassas (curries), aamtis (sour curries) and dahi chya bhaajya (vegetables cooked in yogurt) taste divine in groundnut oil. Undhiyu, khandvi and dhokla use groundnut oil.
Groundnut oil, the frying medium par excellence
This rich, flavourful oil great for frying - from vegetable chips of any kind (bitter gourd/karela, sweet potato, banana, tapioca and potato chips and wedges) to farsan such as shev, chakli, chivda, matthri, and also hot snacks such as palak (spinach) bhajiyas, dal (lentil) vadas, pakodas, too!).
Groundnut oil and non-vegetarian cooking
The famous Kolhapuri mutton is cooked in groundnut oil as is the coveted Malvani fish fry. Batter-fried chicken, chicken and fish pakoras (fritters), mutton with coconut, keema-matar, mutton rassa, and tangy fish curries with kokum, tamarind or lemon taste  Groundnut oil's versatile flavours complement most meat, poultry and fish dishes, enhancing their taste without overwhelming it.
Popular spices that can be used with groundnut oil
Jeera, hing (asafoetida) and whole red chili is a popular combination for seasoning dals and vegetables. Mustard, hing, green chilies and curry leaves is yet another evergreen favourite - sometimes grated coconut is often used as a garnish with this spice combination. The beloved Maharashtrian garam masala, also called 'goda masala' or 'black masala' is a spice mix that goes oh-so-well with groundnut oil. All the garam masala spices: Badi Elaichi (Black Cardamom), Tej Patta (Bay leaf), Dalchini (Acacia bark), Laung (Clove) can be used to create wonderful flavours, along with fresh ginger, fresh garlic and green chili.  
Eat Gaon Fresh groundnut oil raw and enjoy the flavour!
Remember Gaon Fresh groundnut oil also tastes excellent when eaten raw because of its wonderful nutty aroma and distinct taste.. It's excellent in the Maharashtrian version of bharta (bharit) which is  a type of 'Kaccha Bharta'. These kaccha bhartas are made out of different vegetables - brinjal, green tomato, pumpkin and bitter gourd. It's also mixed with dry chutney powders to create a 'wet' chutney, eaten with dosais. Raw groundnut oil is used in  snacks such as 'Kacchey Pohey', the Maharashtrian equivalent of 'Jhaal muri', made with beaten rice.